By 2030, the U.S. Environmental Protection Agency believes it's regulations on carbon dioxide (CO2) emissions from power plants will cut carbon emissions from the electricity sector 32 percent compared to 2005 levels.
Reaching that goal depends on one big assumption, however: that the aging fleet of 99 nuclear reactors that now supply about one-fifth of America's electricity continue operating.
As a new analysis recently published by Third Way makes clear, if existing reactors retire en masse, it could be extremely difficult, if not impossible, to meet the EPA's carbon reduction goals. And there's simply nothing in the EPA rule to prevent nuclear retirements from ruining America's climate progress.
Let me explain…
Cutting power sector emissions depends on progress on multiple fronts—without backsliding
To reach the so-called Clean Power Plan's emissions goals, the EPA expects fossil fueled power plants to get more efficient, relatively clean natural gas to displace a lot of coal-fired power, as well as a big surge in renewable energy generation, which the EPA believes will supply 20 percent of U.S. electricity by 2030. In other words, it's going to take a lot of forward progress on multiple fronts to reach the Clean Power Plan's emissions reduction goals.
At the same time, EPA's projection of a 32 percent decline in power sector emissions is just that: a projection. The Clean Power Plan does not actually cap total power sector emissions. To give states flexibility, EPA offers three different ways to comply with the Clean Power Plan but the core regulation is a limit on the average emissions rate (in pounds of CO2 per megawatt-hour) for existing fossil-fueled power plants in each state. (The other two options are supposed to be the equivalent of this core emissions rate limit; for a great explainer of the rule, see Brad Plumer at Vox here).
So to arrive at that 32 percent reduction figure, EPA simply added up all the changes they expect the state-level emissions rate limits will achieve. And then they made their key assumption about nuclear: namely, that total nuclear power capacity will decline only slightly, falling to 98-99 gigawatts by 2030, down from 105 gigawatts today, as five new reactors currently under construction offset a handful of retirements of existing reactors. (The under-construction reactors, totaling nearly 5.7 gigawatts, are the once-mothballed Watts Bar Unit 2 in Tennessee and a pair of AP1000s each at Vogtle in Georgia and Summer in South Carolina).
EPA projects nuclear will still provide 19% of U.S. electricity in 2030, on par with the total contribution from all renewables, including hydropower (see Table 3-11 here).
In essence, carbon-free electricity from existing nuclear power plants forms the critical foundation upon which further progress towards a lower-carbon power system is supposed to build.
Take away that foundation, and the whole project could crumble. Instead of cutting carbon 32 percent below 2005 levels, emissions could soar due to nuclear retirements, undermining the progress achieved by the Clean Power Plan's regulations on fossil fueled power plants.
Share this post:
The US #nuclear power fleet is the foundation upon which the #CleanPowerPlan will build. What happens if we lose it? http://t.co/eNOxli1d0H

— JesseJenkins (@JesseJenkins) September 1, 2015

Nuclear retirements could torpedo progress towards a lower-carbon power system
Third Way's recent report, titled "When Nuclear Ends," puts a fine point on the risk that mass nuclear retirements pose to America's climate objectives.
As independent consultants, my colleague Dr. Fernando de Sisternes and I contributed the quantitative analysis behind the Third Way report. We developed an optimization-based model of of the U.S. electric power system to assess what would happen to power sector CO2 emissions if existing nuclear reactors retire.
In short: electricity generated by retiring reactors would be predominately replaced by natural gas—both expanded generation at existing plants and new gas-fired power plants.
When natural gas replaces carbon-intensive coal, it helps cut CO2. When gas replaces carbon-free nuclear generation, however, emission clearly go up.
We modeled electricity capacity, operation, and emissions in 2025 and 2035 under three different scenarios. In the first scenario, existing reactors operate for a full 60-years, securing 20-year extensions to their existing licenses from the Nuclear Regulatory Commission. We use this scenario as a base case to compare to the other scenarios and calculate the emissions impact of nuclear retirements. In the second scenario, reactors operate for just 40-years, retiring after their initial licenses expire. The third scenario contemplates a complete nuclear phase-out, with all existing reactors retiring by 2025, leaving just the five new reactors under construction as nuclear's remaining contribution to U.S. electricity supplies.
The following figure illustrates the total nuclear capacity in each scenario in 2025 and 2035.
Source: Third Way
Under the nuclear retirement scenarios, U.S. power sector CO2 would be 12.5 to 17 percent higher in 2025 than if we preserved the existing nuclear fleet. That amounts to an additional 269-360 million metric tons of CO2, or the equivalent of adding up to 76 million cars to the road (about 30 percent of vehicles registered in America today). That's a pretty enormous increase in emissions.
By 2035, nearly the entire U.S. nuclear fleet would be shut down under either Scenario 2 or 3, as most reactors would be at least 40 years old by that date. Replacing retiring reactors under either scenario would drive up emissions about 9 percent relative to keeping existing nuclear plants running for a full 60 years. That translates to 190 million metric tons of additional CO2 emissions in 2035, or enough to wipe out three-quarters of the reductions the Clean Power Plan aspires to achieve.
In summary, if more than just a handful of nuclear power plants retire by 2030, it could sabotage the carbon reductions targeted by the EPA's Clean Power Plan.
Why the EPA carbon regulations won't prevent nuclear retirements
Given that maintaining the existing nuclear fleet is essential to achieving the EPA's carbon reduction goals, you would think that the Clean Power Plan would prevent this scenario or at least encourage existing reactor owners to keep operating. You'd be wrong.
In fact, the Clean Power Plan may create a perverse incentive to close existing plants and replace them with electricity from natural gas-fired power plants—exactly the scenario our modeling contemplated.
As I mentioned before, the EPA Clean Power Plan is implemented as a maximum average emissions rate (pounds per MWh) for existing fossil fueled power plants. While EPA set specific limits for coal-fired power plants (technically steam turbine plants) and natural gas plants (combustion turbines), in practice, EPA expects most states to opt for more flexible state-specific emissions rate standards that apply an average limit to the existing fossil fueled fleet overall, which allows credit for switching from dirtier coal plants to relatively clean gas plants.
The standard is a bit more complicate than that, as it also awards states so-called "Emissions Reduction Credits" for each MWh of electricity generated by new renewable or nuclear power plants or upgraded capacity at existing carbon-free power plants, as well as for each verified MWh of energy demand reduction due to energy efficiency measures.
So if states opt for this flexible rate-based state standard, compliance with the Clean Power Plan will be measured by the following formula:
Under this formula, the emissions-free electricity generated by existing nuclear power plants is left out entirely.
So what happens if existing nuclear plants retire?
If nuclear reactors are replaced by additional generation from existing natural-gas fired power plants, then the total emissions from covered power plants (the top of that ratio above) goes up—but so does the total MWh of generation from covered fossil power plants on the bottom of the ratio.
As long as existing nuclear generation is replaced by gas-fired power plants with emissions rates below the state standard, this actually helps a state comply with the Clean Power Plan. Even though total emissions go up, the emissions rate for regulated plants goes down.
The average emissions rate of existing combined-cycle natural gas plants in the United States is about 900 pounds of CO2 per MWh. That's below the final emissions rate standard for all but nine states. So in any of those states, replacing the carbon-free electricity lost when nuclear plants retire by expanding output at existing combined cycle gas plants would help that state comply with the EPA rule. This is the perverse incentive created by the Clean Power Plan.
That said, when calculating a state's emissions rate standard, the EPA counts on existing natural gas plants increasing their utilization rate to 75 percent and displacing a lot of existing coal plants. It may be tough to increase the output at existing gas plants enough to both displace coal and nuclear. But if it can be done, the Clean Power Plan would reward states that opt for the rate-based rule, even though emission would rise.
Alternatively, states that replace existing nuclear plants with new renewables would be rewarded with Emissions Reduction Credits under the Clean Power Plan. And given that these Emissions Reduction Credits help a state comply in lieu of reducing emissions directly at fossil fueled power plants, the net effect of replacing existing nuclear with new renewables would be more carbon emissions than EPA projects. Weird huh.
What about replacing retiring reactors with new fossil fueled power plants? That's kosher too unfortunately.
New fossil fueled power plants fall under an entirely different set of regulations, known as the Carbon Pollution Standard. This rule simply sets a maximum emissions rate for any new coal or gas-fired power plant (applied at the individual plant level).
Even an efficient new coal plant would need to capture some of its emissions or co-fire with biomass to meet that standard for new fossil fueled steam generating units (1,400 pounds per MWh). But any new combined cycle gas plant would comply easily with the 1,000 lbs per MWh standard for baseload combustion turbine power plants. (Remember, even existing, older combined cycle gas plants average 900 pounds per MWh).
Neither existing nuclear units nor new fossil fueled power plants fall under the Clean Power Plan, which only regulates existing fossil fueled power plants. And as long as the new gas plants meet the (easily met) Carbon Pollution Standard for new fossil power plants, everything will be hunky dory, at least as far as the regulations are concerned.
Under the EPA's pair of power plant carbon regulations, states would therefore be completely free to retire nuclear plants and replace them with a combination of increased production from existing and new combined-cycle natural gas plants or new renewables. (States could even replace a carbon-free nuclear plant with a new coal plant an emissions rate of up to 1,400 pounds per MWh, although given the relative economics of coal and gas, that's less likely).
In any case, total U.S. power sector emissions would rise.
Why hasn't EPA addressed this risk to U.S. climate goals?
Unfortunately, EPA has apparently either not contemplated this scenario, or they were simply constrained by the limitations of the Clean Air Act to create regulations that fail to prevent mass replacement of nuclear plants with gas-fired generation and the associated spike in CO2 emissions.
The final Clean Power Plan includes several sections that worry about carbon "leakage" due to shifting generation from existing fossil power plants that fall under the regulation to new gas (or coal) plants that fall under the comparatively more permissive Carbon Pollution Standard. They direct states to ensure their compliance plans prevent this kind of creative accounting and the resulting increase in emissions.
Unfortunately, the EPA rule says nothing about the much more substantial risk that states replace existing carbon-free nuclear with new or existing natural gas plants.
In the draft Clean Power Plan rule published last year, EPA planned to credit states for keeping online a small set of nuclear plants considered "at risk" of closure. But in the final rule, EPA decided that since existing nuclear reactors don't help reduce emissions further, they shouldn't generate Emissions Reduction Credits like new nuclear or renewable capacity will.
That makes some sense. The goal of the EPA rule is to cut U.S. emissions further. But to drive emissions down, we also have to prevent backsliding due to retirement of our existing carbon-free power assets.
For example, the EPA rule could have applied an Emissions Reduction Penalty in the rate-based formula above for each MWh of existing nuclear generation lost to retirements, or something similar. But now that the rule is final, that ship has sailed.
Please note that the same analysis above applies to retirements of existing renewable energy facilities as well.
As such, there is also a comparatively smaller but important risk that some share of our existing wind farms, which now supply about 5 percent of U.S. electricity, are closed and replaced with either new renewables—which would be rewarded with Emissions Reduction Credits under the rule—or gas-fired generators—either of which would permit higher CO2 emissions just as in the case of nuclear retirements described above.
Given that many wind farms built in the 2000s are only warrantied for 20 years and have power purchase agreements for a similar length, this is a real possibility. So-called "repowering" of old wind sites is already beginning.
EPA does not discuss this risk of existing renewables retirements in the final Clean Power Plan rule either.
EPA may be able to find a way to encourage and incentivize states to submit compliance plans that prevent retirement of existing nuclear (and renewable) facilities.
EPA may be able to apply an "anti-leakage" provision to reject state plans that contemplate replacing existing nuclear or renewables with gas-fired generation or new renewables in a manner that would increase total emissions. This would be similar to their current anti-leakage guidance to states that may be contemplating shifting fossil generation from existing generators that fall under the Clean Power Plan to new generators exempt from the rule.
Alternatively, EPA may be able to encourage states to adopt the optional mass-based standard, which sets a limit on total emissions from covered power plants. EPA established those mass-based limits under the assumption that existing reactors keep generating power, so any nuclear or renewable retirements would take a state further from compliance with the mass-based standard. In other words, the mass-based rule implicitly credits existing zero-carbon resources for their role in keeping emissions from rising.
Unfortunately, I don't see any statutory authority under which the EPA could incentivize or require a state to adopt the mass-based rule. The whole idea of the Clean Power Plan is that states have the option to adopt any of the three supposedly equivalent rules. Clearly a state that plans to retire a lot of its existing reactors would opt for the rule that rewards them (the rate-based standard) rather than the one that penalizes them (the mass-based standard).
In addition, since the Clean Air Act only gives EPA authority to regulate emitting power plants, I don't see how EPA has any real statutory authority over what utilities or states decide to do with their existing nuclear plants.
I very much hope EPA can find a statutory rationale for preventing the mass retirement of America's existing nuclear fleet. If they cannot, the Obama Administration's entire climate plan may be fatally undermined.
(If there are any Clean Air Act legal scholars reading this, please let me know what you think in the comments or via email. Better yet, let EPA know what they can do to prevent this scenario from unfolding!).
Can't renewables fill the gap?
I'm sure there are readers out there who are saying, "Well can't we just deploy more renewables to replace our existing reactors and avoid these emissions increases?"
Maybe. But if our goal is carbon reduction, dedicating renewables growth to replacing nuclear would be a major mistake.
Remember that to reach the 32 percent reduction in total power sector emissions, the EPA expects renewable energy sources, including hydropower, to supply 20 percent of U.S. electricity by 2030. That's an increase from about 13 percent today (roughly 6 percent hydro, 5 percent wind, 1 percent biomass, and 1 percent solar and geothermal).
EPA envisions hydropower expanding from about 6 percent today to 8 percent in 2030, mostly via upgrades to existing dams I presume.
Meanwhile, wind, solar, geothermal and biomass would nearly double their combined market share from about 7 percent of U.S. electricity today to 12 percent in 2030. EPA also makes the critical assumption that energy efficiency measures will keep total energy demand from growing appreciably through 2030, increasing just 0.7 percent over 2014 levels.
New renewables can almost certainly meet that goal. The renewable energy industry must contend with the loss of the production and investment tax credits that have buoyed wind and solar growth in recent years (the PTC has already expired and the ITC expires for residential solar and reverts to a 10 percent credit for commercial solar in 2017). But costs are falling for wind and solar, and the Clean Power Plan will reward states that expand renewable energy generation with Emissions Reduction Credits under the rate-based standard.
To meet the Clean Power Plan's emissions reduction goals, however, we need that near-doubling of wind, solar, geothermal and biomass to displace fossil fueled electricity generation and actually drive down total emissions. (We'll also likely need to replace some of our existing wind farms by 2030. About half of wind capacity installed in the U.S. today was built before 2010.)
To simultaneously displace coal and gas and replace the fifth of U.S. electricity supplied by carbon-free nuclear, renewables (excluding hydropower) would need to collectively supply about 31 percent of U.S. electricity by 2030, a nearly 4.5-fold expansion.
For comparison, over the 15 years from 2000-2014, Germany's suite of aggressive renewable energy supply policies known as the Energiewende increased the share of electricity from wind, solar, biomass/biogenic waste and geothermal by 22 percentage points (from roughly 2 to 24 percent). Biomass and waste combustion contribute more than a third of that final share by the way, so that's not all emissions-free renewables.
Replacing America's nuclear fleet without falling short of the EPA's 2030 carbon reduction goal would require a roughly 25 percentage point growth in the share of electricity from wind, solar, and geothermal over an equivalent time period.
To replace our existing nuclear fleet and help drive down emissions, new renewables would thus need to expand faster than the pace of Germany's Energiewende.
That growth rate may be technically feasible, but it would clearly be very aggressive, amounting to a step-change in U.S. support for renewable energy. And remember, the way the EPA rule is structured, replacing nuclear with new renewables like this could completely relieve the regulatory pressure to actually cut emissions from fossil fueled plants.
Feasibility aside, dedicating the fastest-ever expansion of renewable energy to replacing emissions-free nuclear would be like running a 15-year long marathon just to stay in place.
If renewables do expand at such a rapid pace, I for one would much rather see that growth displace polluting fossil fuels rather than nuclear. I realize that's a normative statement, and others may disagree. But I hope anyone who sees climate change as one of the most urgent environmental and humanitarian threats facing humankind will at least see the logic there.
Eventually, the United States will need to begin replacing its aging reactors as they reach the end of their usable lives (see image below). At that point, we will need new renewables or new nuclear plants to fill this gap and keep emissions from backsliding. We need to plan ahead for this eventuality.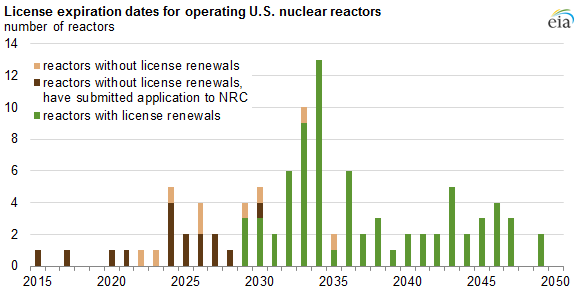 Image: Status of U.S. nuclear reactor permits as of October 2014. Source: US Energy Information Administration
Yet most of the U.S. nuclear fleet can keep running safely for at least 60 years. Longer 80-year lifespans may also be possible with sufficient upgrades. Keeping existing reactors running longer is likely to be one of the most cost-effective tools the United States has to help drive down power sector carbon emissions.
That's why it would be a real tragedy if the Clean Power Plan failed to prevent the retirement of our largest source of carbon-free electricity.